March 15th, 2021
Algorand Wallet - 4.7 Release Notes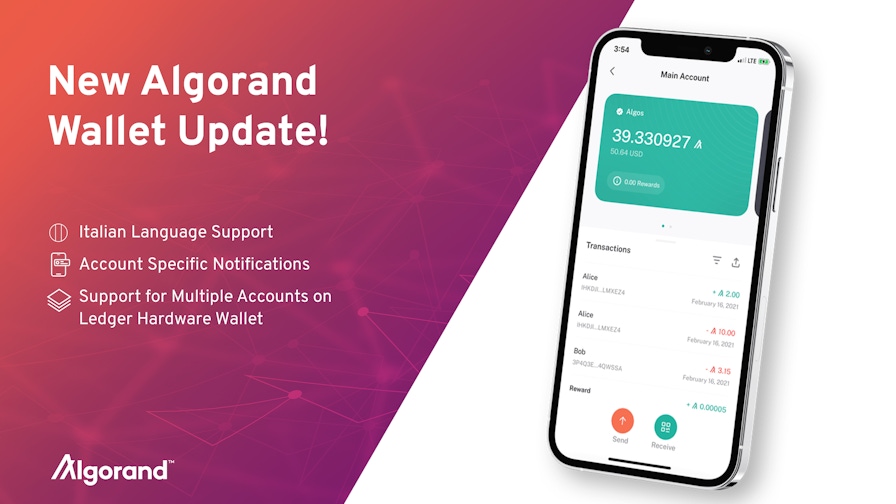 The Algorand Wallet team is excited to roll out our latest version of the Algorand Wallet! While the release itself isn't characterized by 1 major feature (like previous releases), this update addresses a whole slew of small features, enhancements, requests, and bug fixes. You may not notice much of a difference in your daily interactions with the wallet, but there have been a bunch of small improvements that needed to happen before we could move on to some of our bigger upcoming releases.
In order of relative impact to the wallet, the following is a list of the changes you should expect to see in 4.7:
Italian Language Support:
You can now select Italian from the list of languages supported in the Algorand Wallet Settings.
Italian language available via Settings->Language
Support for Multiple Accounts on your Ledger Hardware Wallet
When pairing a Ledger Nano X hardware wallet, you now have the option to bring over all of your Ledger accounts, including accounts that have been rekeyed to be backed by your Ledger accounts.
New options in the Pair Ledger Device workflow
Account Specific Notifications
You can now specify notification settings for each individual account. This is useful if you're having automatic transactions hitting your account frequently or you want to mute particularly active shared accounts. Customize and you see fit!
Account specific notifications via Settings->Notifications
Miscellaneous
In addition to some of the big features, we also added a lot of small enhancements and bug fixes, most of which are from the community! Here are a few:
CSV Export Bug Fix - We now include date/time of transactions as well as corrected a decimal point bug in the rewards column. Just in time for tax season!
Support Center - We now direct users directly to algorandwallet.com/support for all of their support needs (Settings -> Support Center)
Transaction Tips - On your first transaction, you'll get a little popup that gives you some helpful tips on transacting, especially transacting with an exchange. You can also find this in the new info icon (i) on the transaction page.
Rewards transactions bug - There was an issue where sending a 0 transaction to yourself didn't trigger the UI to show you your earned rewards.
We continue to get a huge number of feature requests from the community so stay tuned for future updates in 4.8! As always, let us know if you have any problems that you think are related to this update!
Best,
Algorand Wallet Team